Pepsi enlists silent TikTok star Khaby Lame to pour new nitro cola
Mar 26, 2022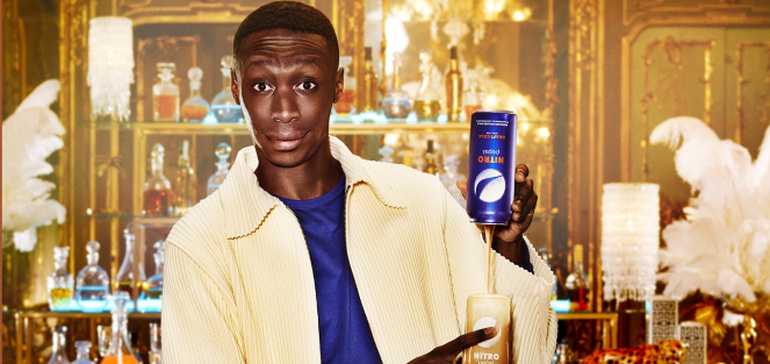 Pepsi frequently enlists Hollywood talent for ad campaigns that aim to create a stronger cultural connection with consumers. With "A Smoother Way to Soda," the beverage marketer's sights turn instead toward the content creator space, and particularly TikTok — an app that's widely adopted among young consumer groups that often find social media influencers more relatable than A-list celebrities.
On that front, the brand has tapped Khaby Lame, who's grown a massive following on the video-sharing app. Lame's content largely involves him staging silent reactions to other users' posts, with a focus on mocking "life-hack" or how-to videos that he deems counterintuitive. Lame is the fastest-growing global account on TikTok, according to Pepsi, and the most-followed male creator on the platform.

That level of clout could generate buzz for Nitro Pepsi, which is billed as "the first-ever nitrogen-infused cola that's actually softer than a soft drink." In a TikTok video, Lame wordlessly demonstrates the proper way to pour the product while standing at a bar, playing up the beverage's more premium positioning. Print and out-of-home ads emphasize the outsized facial expressions and gestures that have made Lame into a social media star.

"Since Khaby Lame is known for pointing out the obvious with the use of his signature hand gestures, we felt he was the perfect person to show the world Nitro Pepsi is a simple solution for those who prefer less carbonation than that of a traditional cola," said Todd Kaplan, chief marketing officer at Pepsi, in a press statement.

Once poured, Nitro Pepsi is supposed to carry a smoother, creamier flavor than other sodas, with tinier bubbles and a frothy foam head. This effect is achieved by using widgets at the bottom of the can, a design commonly seen in beer and coffee products. Pepsi has been experimenting with the concept since 2019 and claims this is the first time such technology is being applied to soda.

Nitro Pepsi's national expansion is further supported by TV ads airing around high-profile occasions like the Oscars and experiential activations. Starting March 25, the cola will be available on tap at the Sky Lounge of The High Roller Observation Wheel on the Vegas strip, Pepsi previously announced.

A heavier push behind Nitro Pepsi comes as rivals are also ramping up beverage innovations. Coca-Cola earlier this year introduced a Coca-Cola Creations program that develops limited-run experimental flavors, along with accompanying digital and real-world experiences. The first offering out of the initiative is Starlight, a "space-flavored" cola inspired by the renewed interest in space travel that hit shelves late last month.

---
Source: Marketing Dive
---
Top News